I've been working on a Pyro/Iceman fanmix for a while, and...it's done! It's only 10 songs, and I think they all fit during the X2/X3 transition. Hopefully it won't be too bad, and feedback is VERY appreciated! The album cover + zip file with all the songs are under the cut :)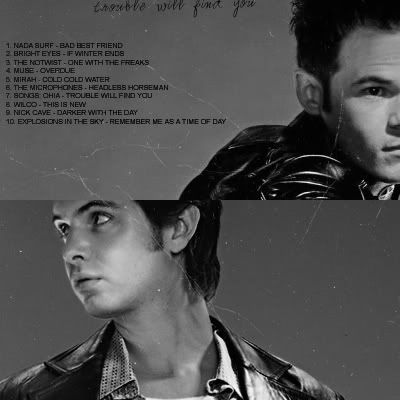 Download the .zip file
here
(right-click and save as!)
1. Nada Surf - Bad best friend
Cause i still say your name when i don't feel right, just like i used to
And if most people fade to gray and black, you'll fade to light blue.
I think too much and then start talking mean.
Where did i get all these selfish genes?
2. Bright Eyes - If Winter Ends
into these twisted months i plunge without a light to follow
but i swear that i would follow anything
if it would just get me out of here
and so you get six months to adapt
and then you get two more to leave town
3. The Notwist - One with the freaks
Miss the signal,
miss the signpost,
lose the access to it all.
And all of a sudden
you are one with the freaks.

Have you ever,
have you ever,
been all messed up?
4. Muse - Overdue
It doesn't matter where I have gone
I just can't afford to
Pay for all the mistakes that you have made
It's about time I was paid
I'm young but I know that I'm aroused

You know that I care
You should have been there
5. Mirah - Cold cold water
But when I ride again into the night
My torch will shoot flames strong and bright
And my absence will remind you of
How tough it is to be in love
6. The Microphones - Headless Horseman
I got hit hard, I'm on the ground
And if you swing again I'll duck
And I wish you best of luck
You deserve yourself

I miss my closest friend
And now I cling to rocks and wind
It's a precious thing we lost
7. Songs: Ohia - Trouble will find you
whatever we are now, seem hardly aware
of what we're used to being
of what we planned on being
and I'd trade it all
for you to come home
8. Wilco - This is new
This is new
This is the new
The new me
The new them
The new us
9. Nick Cave - Darker with the day
You looked so beautiful in the rising heat
I smell smoke, see little fires bursting on the lawns
People carry on regardless, listening to their hands
Great cracks appear in the pavement, the earth yawns
10. Explosions in the sky - Remember me as a time of day
Instrumental.
...Yeeaaah. I'm gonna wait with posting this in communities because I'm not sure how much I like it. Hmm. But! I did do matching icons! O.o






Comment and credit if you take any, please. The brushes are from
peoplemachines
, pictures from
Aaron Stanford Online
and
Shawn Ashmore-.com
.
Tags: bobby/st. john, otp, soundtrack
Current Mood:

nervous